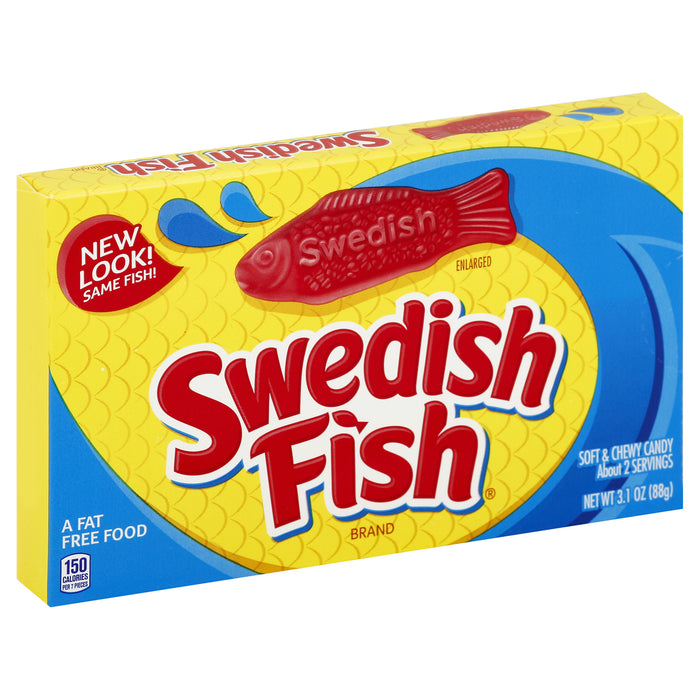 Cadbury Adams, Swedish Fish, Soft and Chewy Candy, Red, 3.1 oz. Theater Box (1 Count)
There is actually much debate as to the official flavor of the original Red Swedish Fish. Though many fans have proposed guesses ranging from cherry, raspberry, or fruit punch to the more exotic lingonberry, the truth is that the fruity flavor is unique and specific to the one and only Red Swedish Fish. The company has never confirmed or denied any flavor claims -- the only statement they have ever officially made on the debate is the very informative declaration, "tastes like fruit, not like fish."

Good call, Sweden.

Well, no matter what the official flavor of these yummy, chewy treats may be, one thing is certain: the marine-shaped munchies have been a North American fan favorite since the 1960s, and unlike their secretive flavor, it's not hard to decipher the reason why!
Ingredients: SUGAR, INVERT SUGAR, CORN SYRUP, MODIFIED CORN STARCH, CITRIC ACID, WHITE MINERAL OIL, ARTIFICIAL FLAVORS, RED 40 AND CARNAUBA WAX.